I've been asked a couple of times what kind of airbrush I use to paint my large miniatures, and nobody believes me when I tell them I paint everything  the old fashioned  way with  brush. They all want to know how I get my bright colours (especially red and white) so opaque and smooth over a black undercoat. Well, I figured that would make a pretty good post considering I just bought a hammerhead and needed to paint it. The first and most important thing is to do lots of thin coats, not one heavy coat. I know everyone says this but it's true. And what I mean by thin coats is you damn near have to just dry brush it. Get a little paint on your brush and drag it across the model until the base coat shows through everywhere. Then do it again and again until you can't see the base coat. And don't worry about being super neat, we'll clean up the colours once we finish each.
1. First things first, assemble your tools and supplies. For painting a miniature that's already assembled that's pretty easy just get your paints and brush (and cloth, water, whatever else you may need). You'll notice I have two brushes, one quite large and a small one. I use the large to lay down colour, and the small to get into the nooks and cranies the big one can't reach.
2. For the white on my tau, I always start from a black undercoat, it makes it easier to spot the areas that need another coat of paint. Also makes painting the black easier as all you really need to do is clean up a bit where you got sloppy.  You can see in this picture I got ahead of myself and already started painting the white. What can I say, I was excited to start
3. First layer complete. You can see it's all patchy, not looking to great yet, but this is exactly what you want to see, this means you haven't been putting the paint on too thick.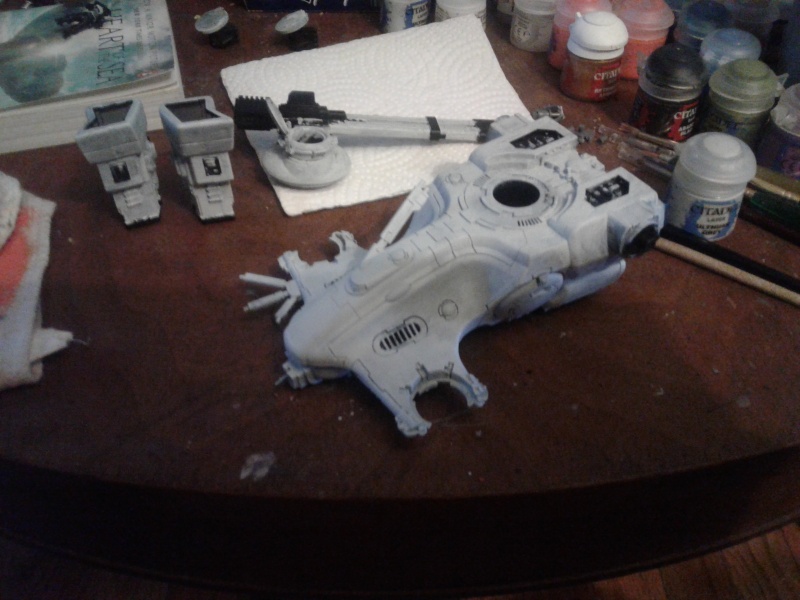 4. Here we have the second layer done, starting too look good, this would probably be good enough for most tabletops.
5. The finale layer done. Now everything is completely covered, no black showing through where we don't want it to.
From here I would paint(re-paint) the black. Black usually covers white pretty well so you should only need the one coat. After that it's time to paint the other colours and get it all finished up. Check back here for some more pics as I complete more colours.
Admin




Posts

: 8


Join date

: 2016-05-02


Age

: 37



I'm going to have to try this. It certainly looks airbrushed, so this is clearly quite effective! Nice work.



Posts

: 6


Join date

: 2016-05-02


Age

: 34


Location

: Kitchener



Well I certainly hope it works for you then. This was pretty much my very first tutorial/whatever
Admin




Posts

: 8


Join date

: 2016-05-02


Age

: 37





Similar topics
---
Permissions in this forum:
You
cannot
reply to topics in this forum