Alright, so I'll get this over with too.  Most everyone's seen the finished product, but I figured a WIP log would be neat. I'm cheating and borrowing my post from DakkaDakka, but I don't want to re-write it all.
To begin!  Years ago, I saw Irondog's Potato head Stompa:
Immediately, I fell in love.  My friends and I chuckled, and I jokingly said I should make that one for my own army. My friends challenged me to do just that, and I agreed to try, "one day" and they called my bluff. Never, ever, call my bluff!  That day came about a year ago when I found a few bags of potato head toys in a thift shop. I paid $10 and got 7 potato heads, and figured this was the opportunity I'd been waiting for.  Seven months later, I'm finally near completion!
Now, because I had so many potato heads, I knew and decided from day 1 that I'd be making more than one stompa.  Thus, I decided to forgo originality in my first attempt. Instead, I opted to try and reproduce Irondog's stompa as closely as I could. I'd hoped this would let me focus on learning how to approach such a project, see some of the challenges he'd faced, and find solutions to them for future reference. One of the biggest challenges was structural integrity, which I'll show later.  So - all of this is to say that I freely admit upfront that I get ZERO points for originality with this project, because this is unashamedly a reproduction. I say unashamedly, because good grief, man, just LOOK at Irondog's original!  It's a thing of hilarious beauty, and I wanted it. I wanted it so badly.
And now, I have it!  Almost.
To start, these are images of my early stages. I had to split the feet, and immediately saw that the malleable plastic used in those feet would likely cause future stability issues if I used them to hold up any part of the legs. Also, my dremel tool died on me during this phase (as in, it would no longer hold bits in tightly).   So, that sucked. I had to cut the holes manually. Sigh.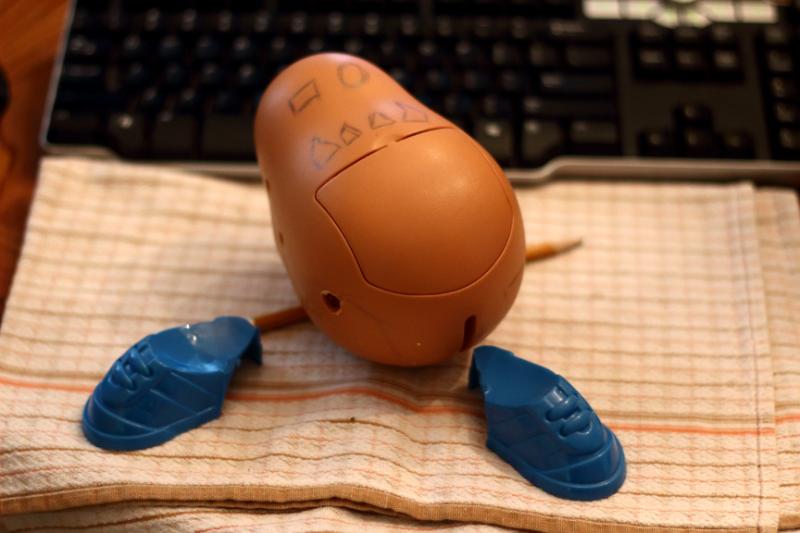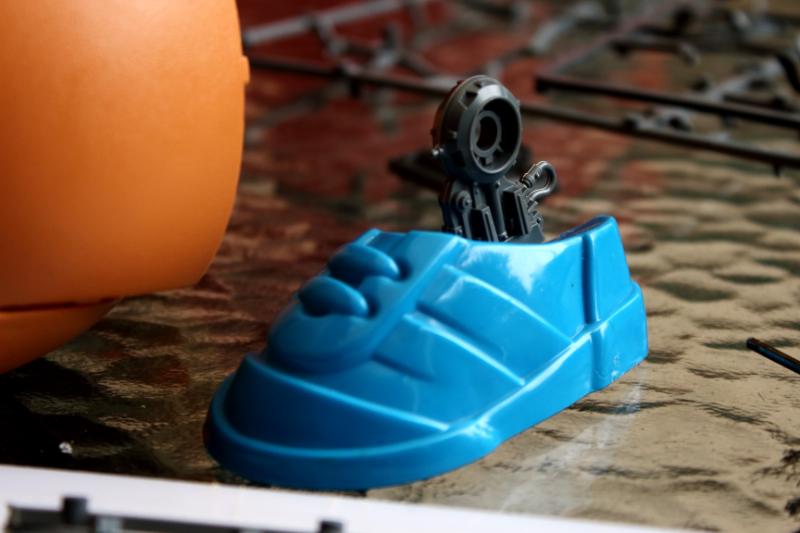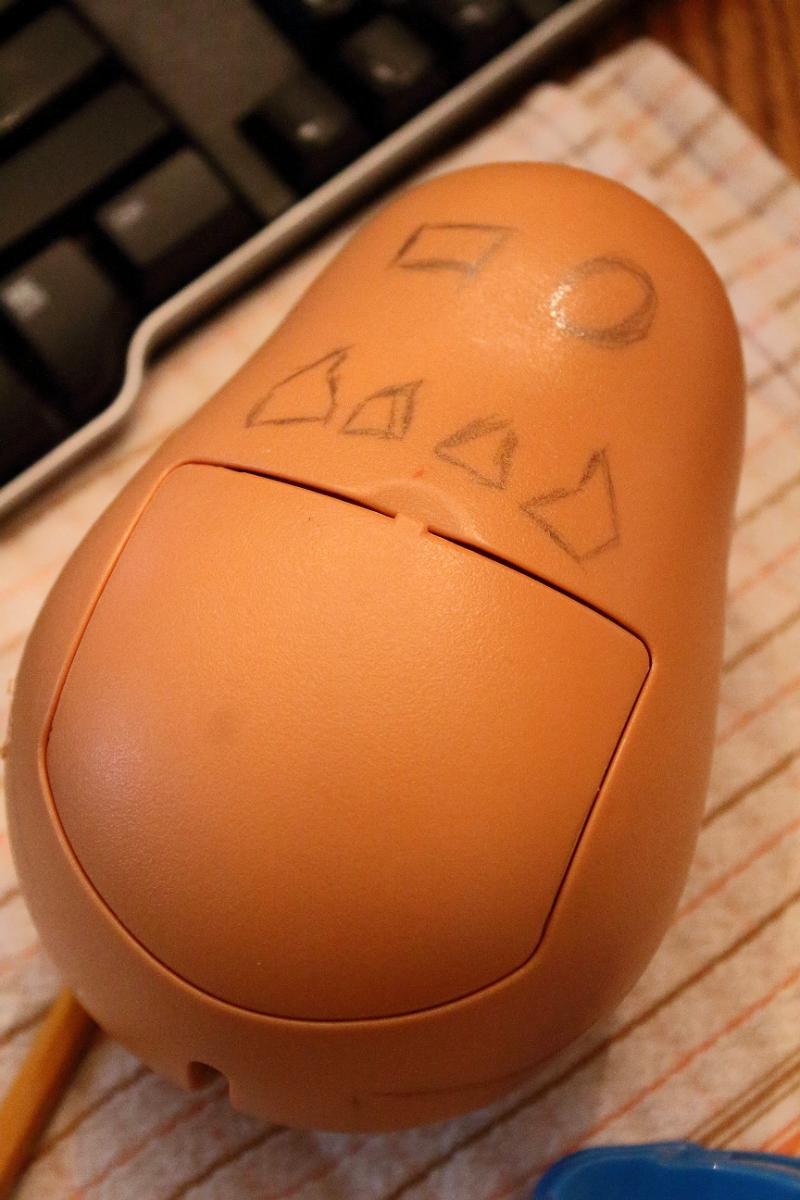 As I started to cut out the holes for the legs, and get ideas about how to pose him, I immediately realized that getting him to stand upright consistently, with all that weight on one foot, was going to be a challenge. Irondog had used foamcore for a lot of his initial stages, and while he used wire later, it looked from his blog that he'd just used the wire to form the shape of the legs themselves - I was less certain about how he'd secure/supported the infrastructure beyond that.
the interior of my stompa's shell: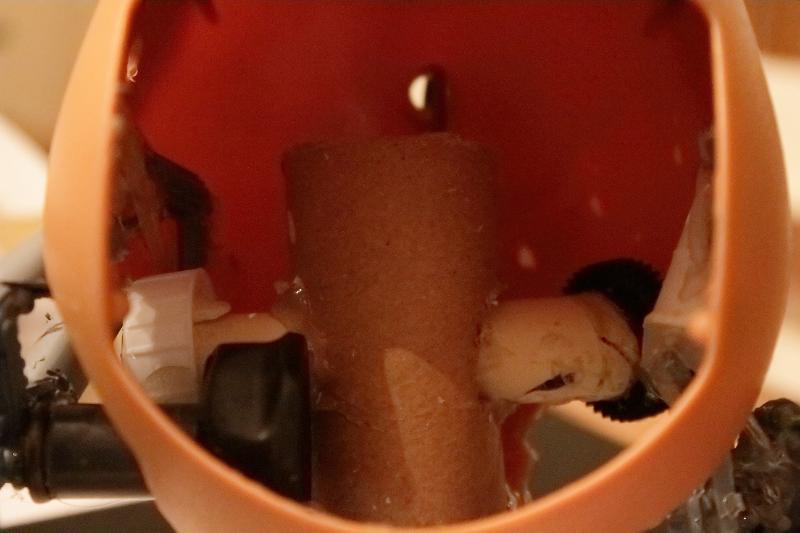 the legs started very skinny and weak looking: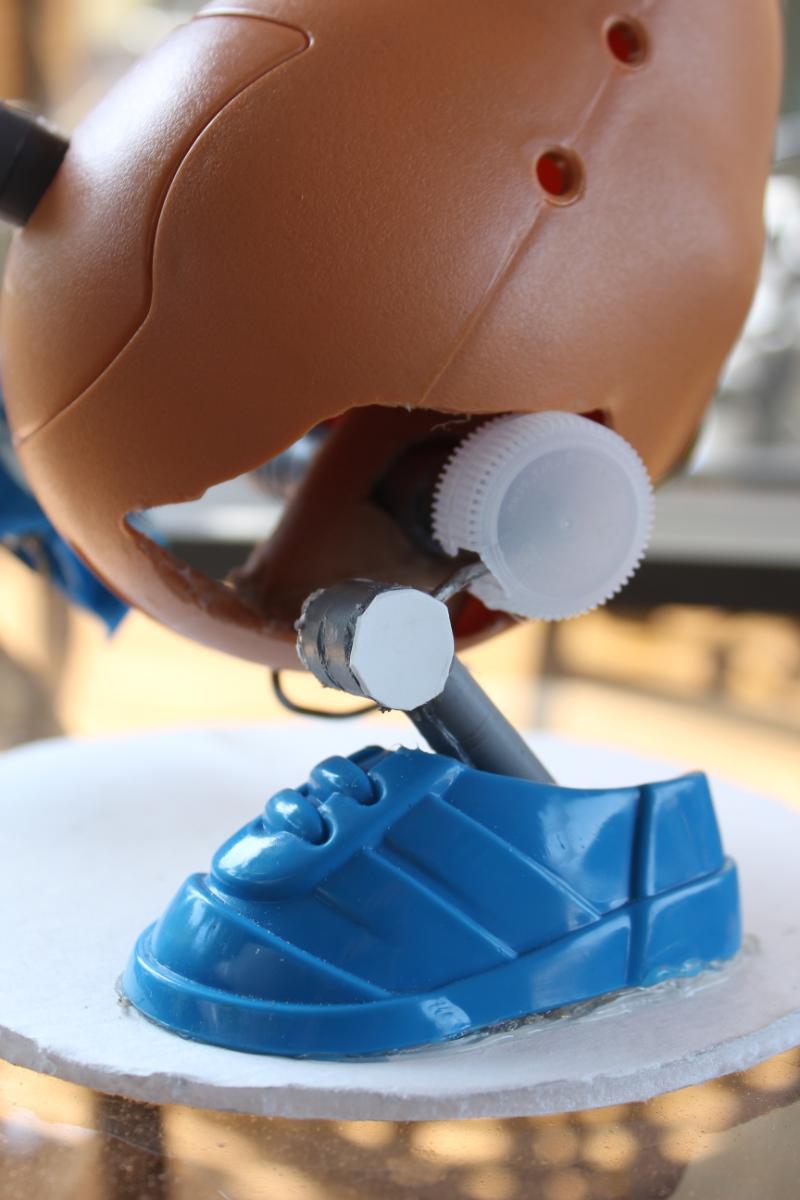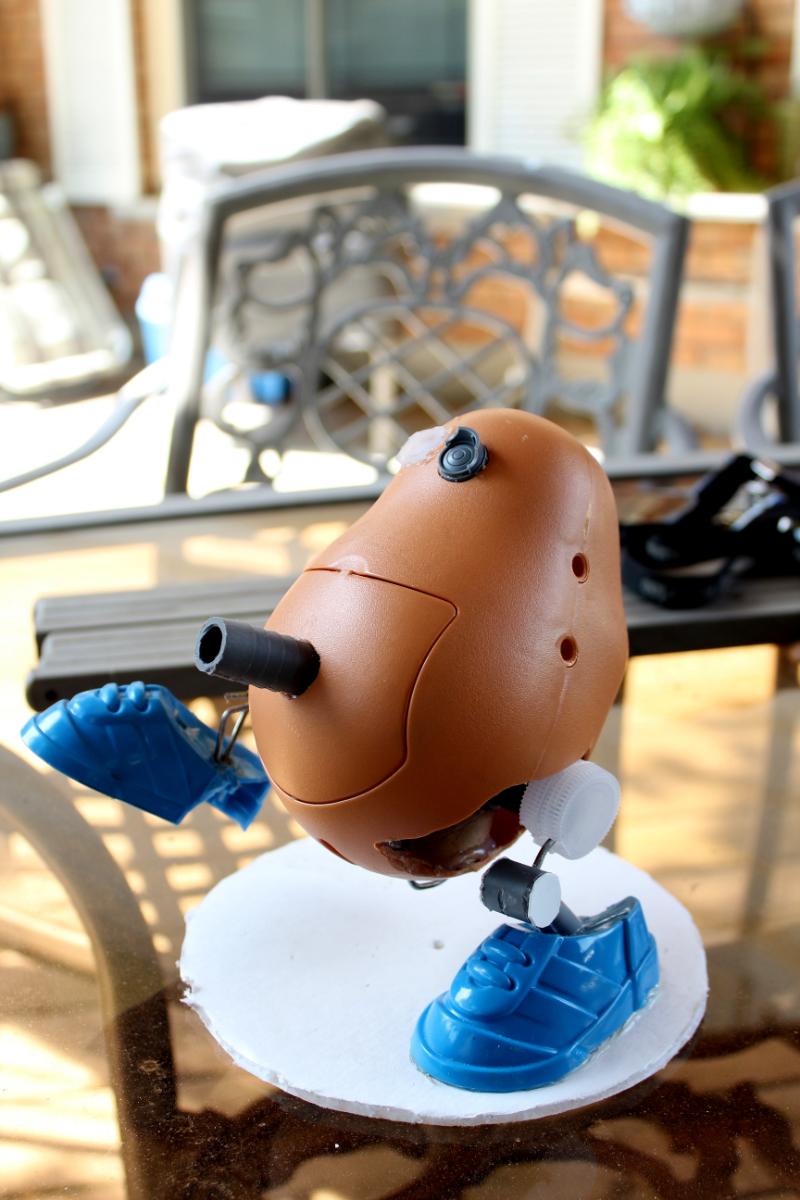 look, he dances!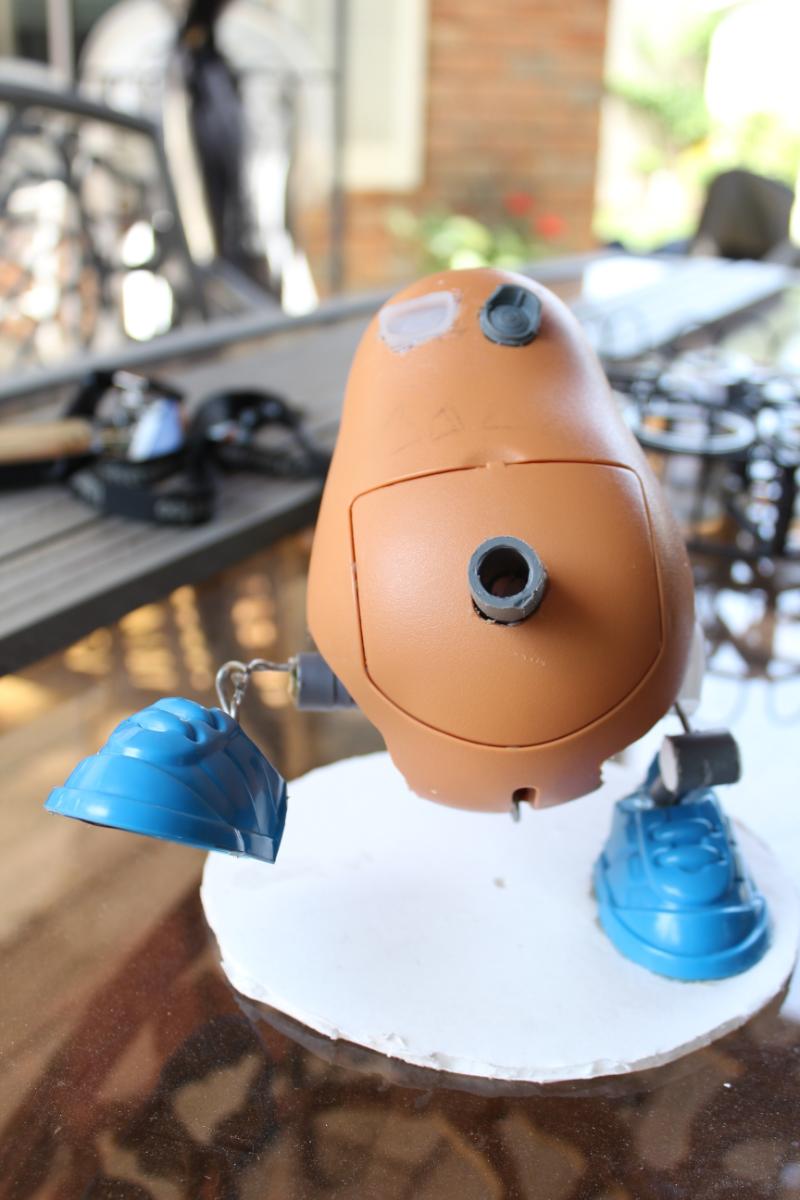 Some of my initial ideas for how he'd look may have been a bit silly...and taken the dancing concept a bit too far..."hello my darlin', hello my honey, hello my ragtime gaaaal..."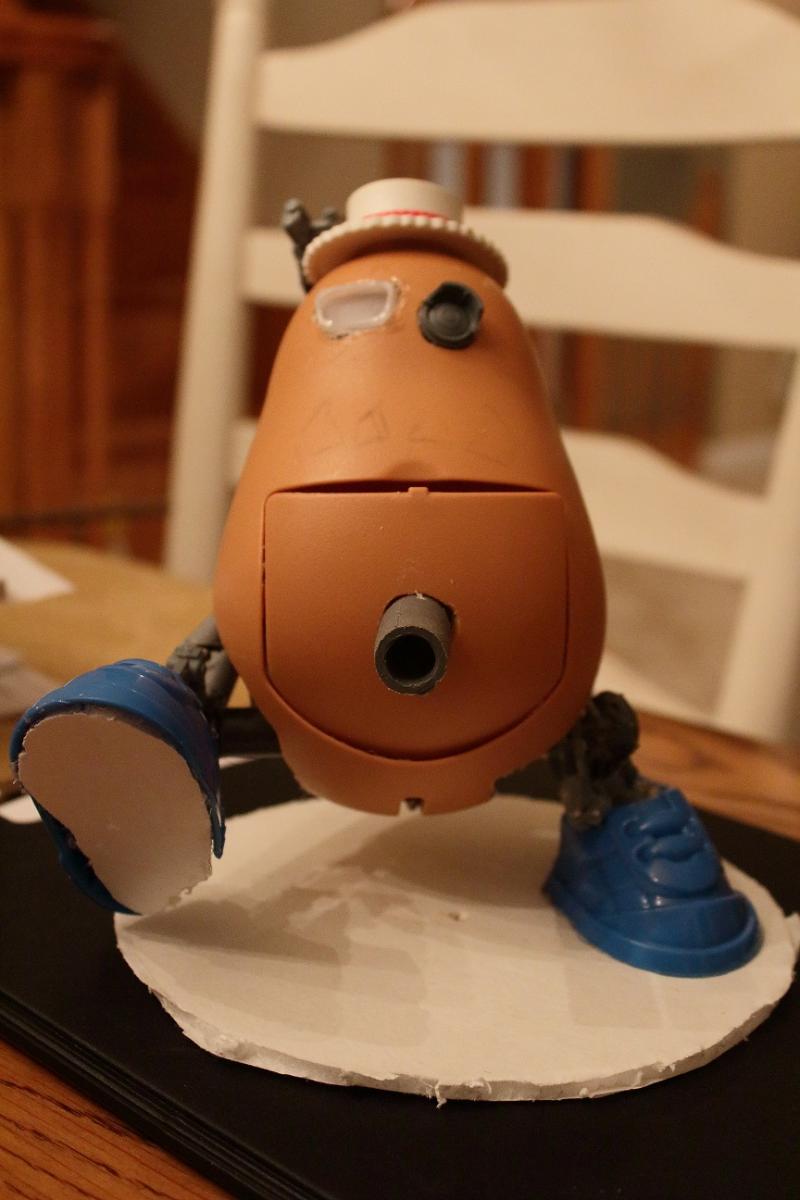 Yet, the biggest problem remained the structure and his integrity. I didn't know how I was going to get him to stay upright  :question:
Eventually, I started to get a better sense of how to make him more rigid, strong, and posed the way I wanted him to be.  I ended up taking the legs back apart and doubling up the coat hanger wire with copper wire surrounding it, which immediately strengthened the legs themselves.  Then, I decided on a thicker (1/4" thick) sheet of masonite for the base. Using a router, I carved a groove into the underside, and made a hole through which I could draw the wire under and bend/loop it. This loop could then be screwed down into the masonite and later glued to keep it in place.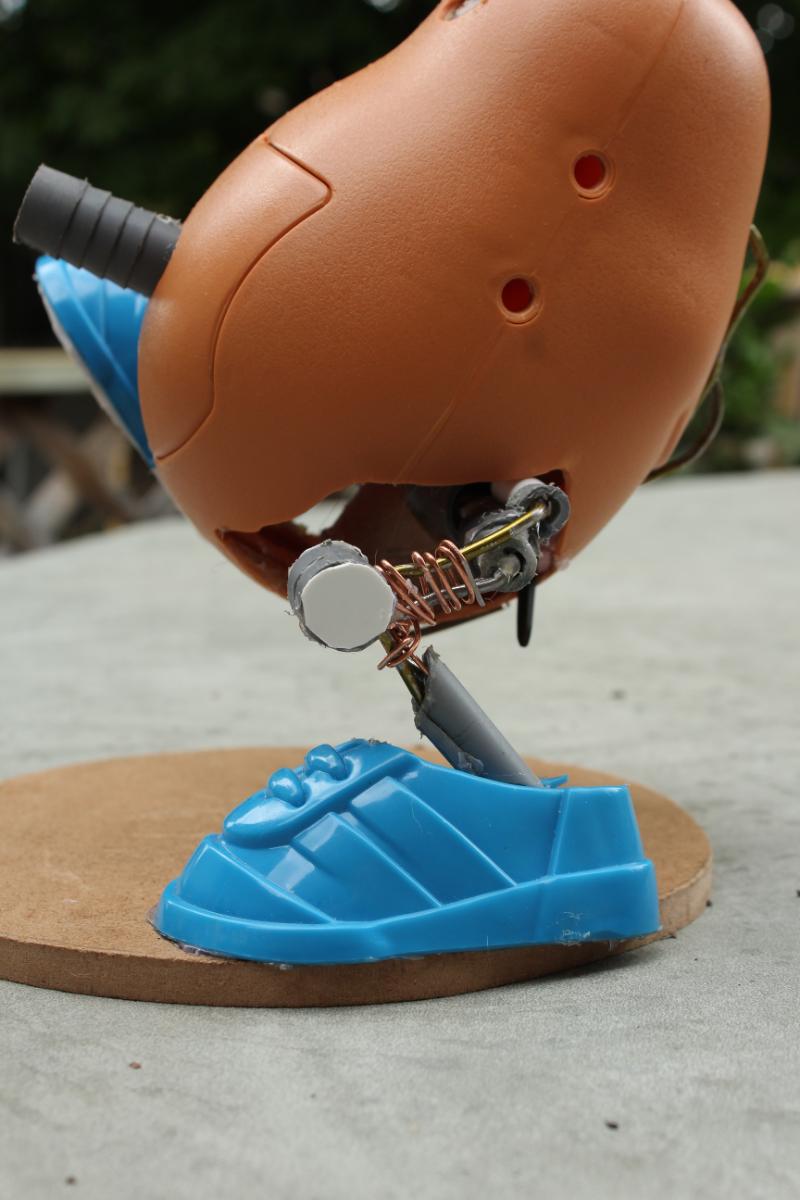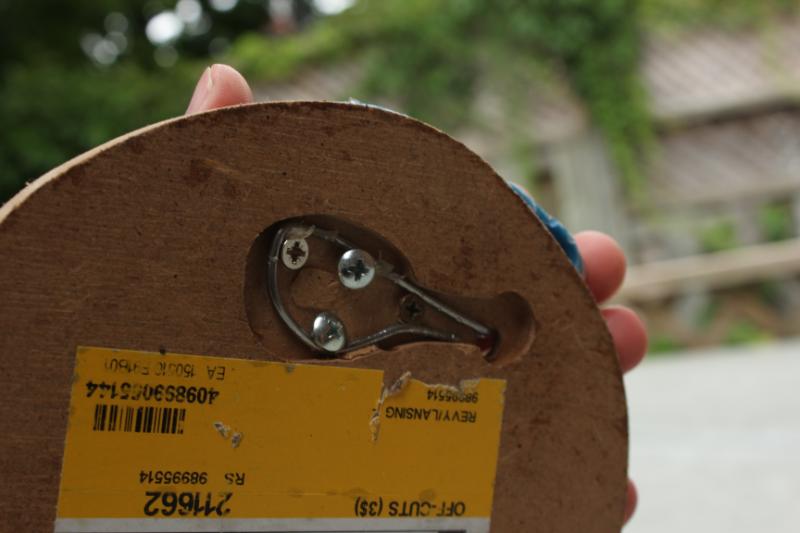 Once I'd solved my issues with structure, I moved on to the next biggest part of this: the arms!  I needed to make a super gatling gun/Supa Gatla, and a big massive choppa/chain weapon.  The gatling gun seemed simple enough, as I needed to make barrels.  I already had 2 monster sized bases, and used a pack of cheap pens from the dollar store, and took the outer shells to make the barrels themselves. I found some thin copper strips with holes in them, which I could use for the housing. Then I just encased this assembly in foamcore: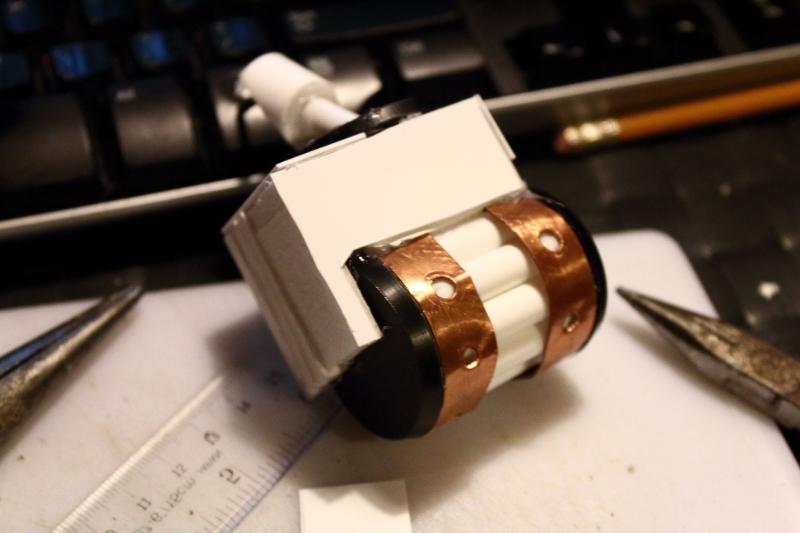 For the barrels of the gun itself, I used large markers, and cut them down to size: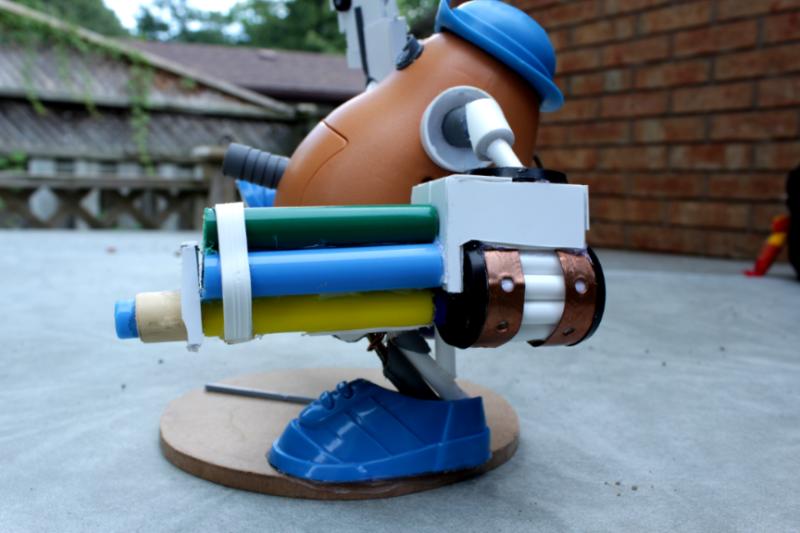 The arm was a piece of coat hanger wire wedged deep inside the foamcore, with a thing plastic tube inside to give it some rigidity and something for the glue to hold onto.  Then it was a matter of building up the arm using pieces of tubing/marker shells etc.
The chain weapon/titan CCW was very, very fun to put together!  I wanted a massive chain sword like Irondog had made, and it was simple: foamcore for the interior body/structure, then platsicard for the exterior.  I should have been more patient, and waited to find a thicker material to use for the blades themselves. As it was, I cut pieces of plastic sheet/credit cards and glued them together to form the blades--but in the end I figure that's orky anyway!  ~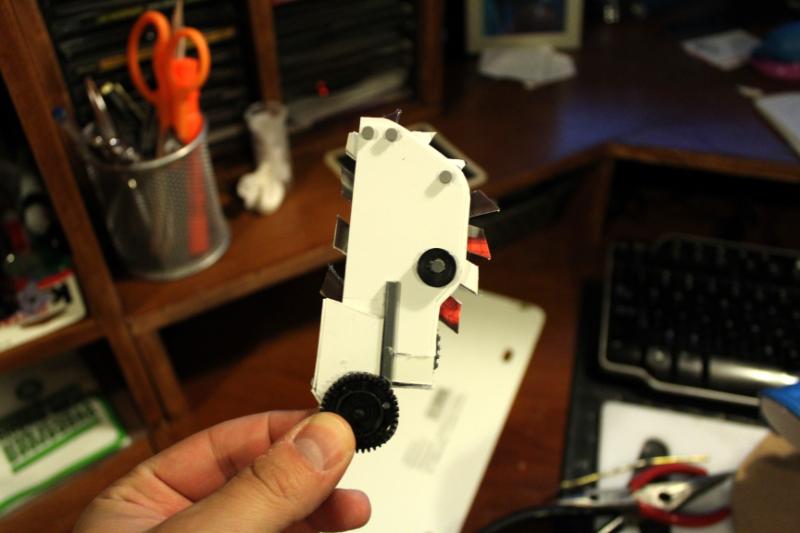 Attaching the arms to the stompa itself was going to be another tricky thing--especially once I realized I'd actually short changed the length of my wire for the arms and was now stuck with what I had, lest I rip the wire back out of the chain saw/gatling gun  :*)   But then I noticed the pens I'd bought:  while the outer shell was what I'd wanted for the barrels, I realized that the pen tips themselves came to precisely the right size to fit perfectly around the gauge of coat hanger wire I was using!   Even better, the other end of these tips fit perfectly into the existing holes of the potato head itself!    

  I was able to extend the arms and add more wire on the interior of the potato head to tie down inside to the rest of the infrastructure.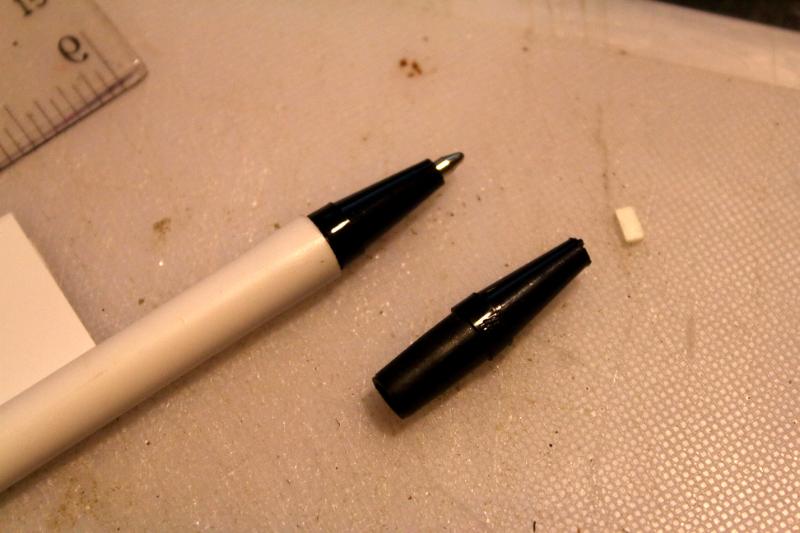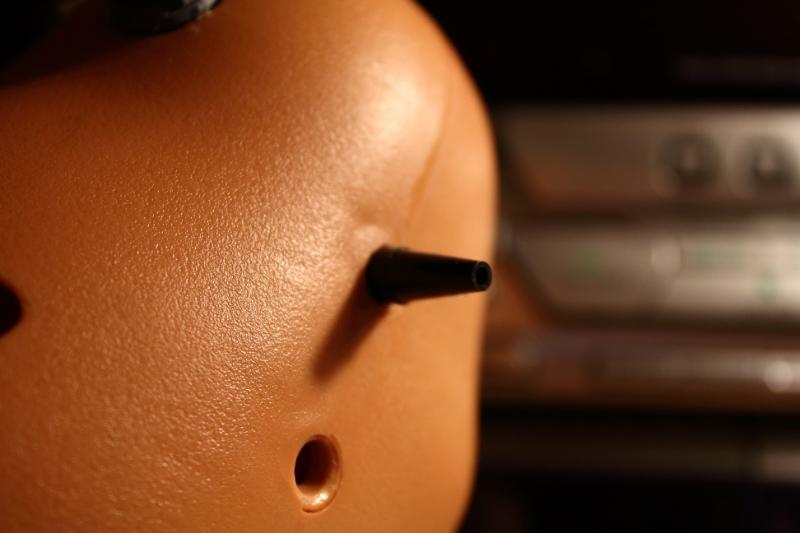 With that done, he was starting to look like something!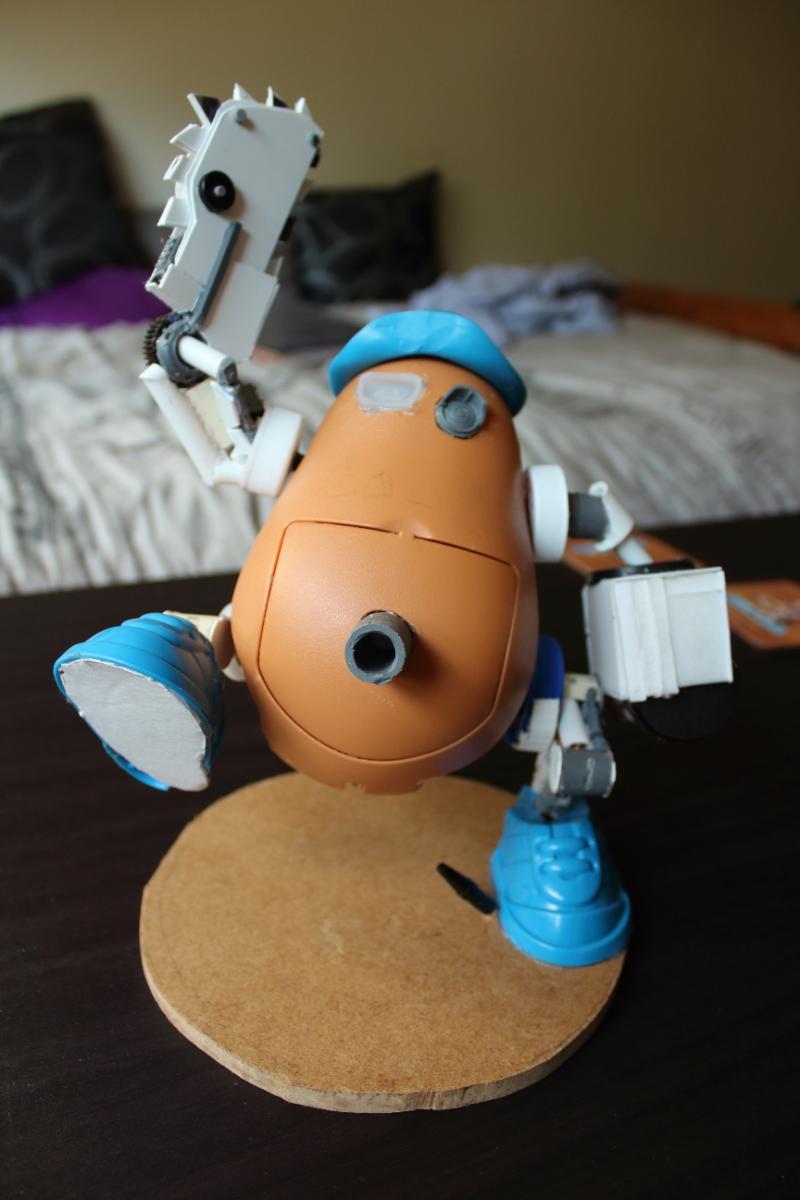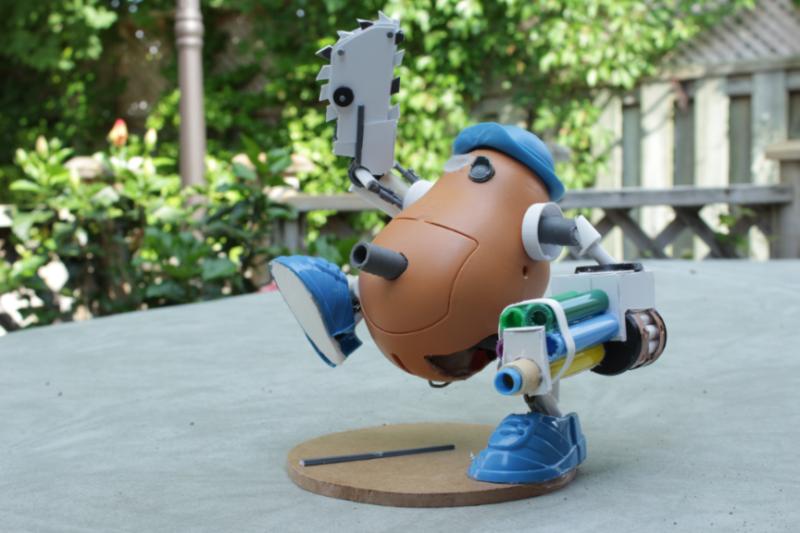 Once I had the basic body constructed, it was time to work on armour. I just used thin cardboard - like cereal box thickness - and cut random shaped and sized pieces to plaster all over this thing.  Then, the TEEF!
And then came the rivets.  Oh, good grief, the rivets.  I researched this for a long time (a few weeks at least), because I wanted to avoid just slicing plastic rod like most tutorials were recommending. That seemed tedious, dangerous, inconsistent, and inefficient.  In the end, I used a leather punch to make holes in the plasticard, which was still inefficient (one at a time), but was loads safer (safe for my carpel tunnel I've now developed) and it's way more consistent.  But it's just as tedious (doing it one at a time, and, I could only make 4-5 at a time before the plastic circles got jammed and clogged the leather punch's barrels).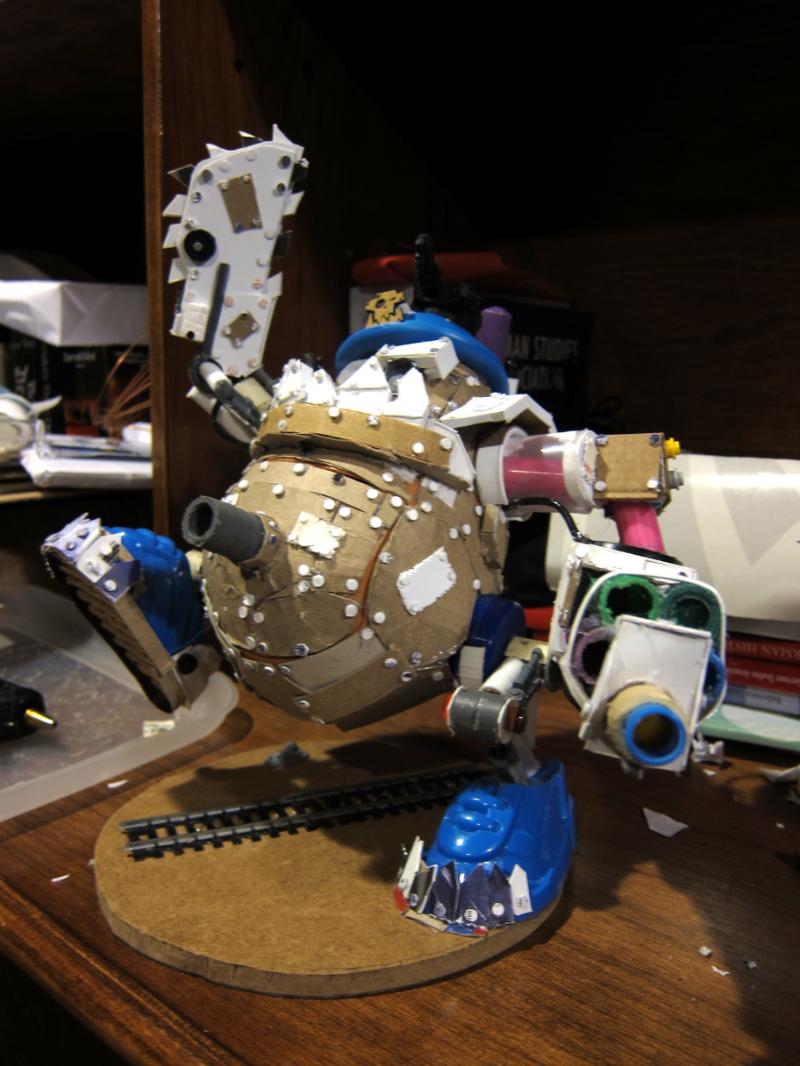 You'll also note above that I'd redone some aspects of the gattling arm.  Before, I noticed it was swivelling, which was what I wanted, but it was too loose, and was losing integrity. So I ended up taking it back off and reinforcing it with another coat hanger wire, that ran through the back of the gun, up into the arm, through the potato head hull and upwards.  It's Way more sturdy, and bonus--the added wire can double as a random fuel line!
and then, it was on to painting!!
basic black priming: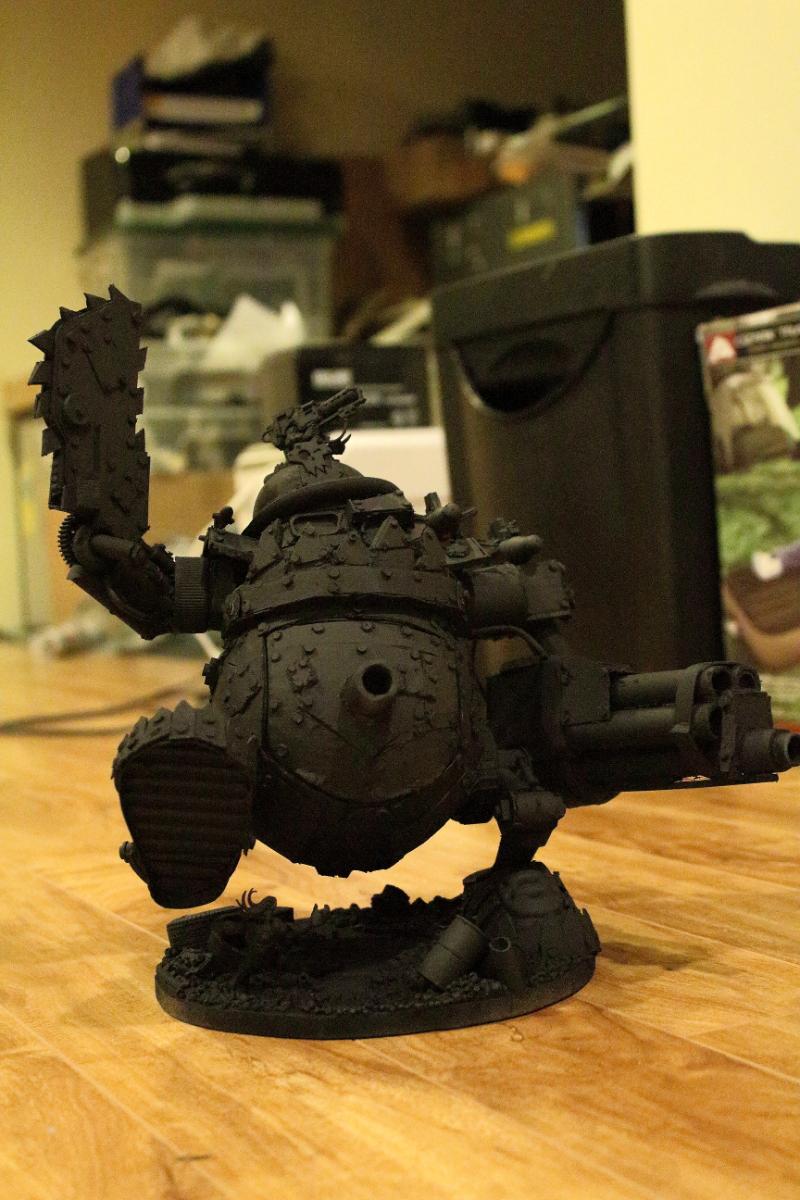 I drybrushed a layer of 50/50 mix of vallejo bronze and Tamiya brown, to get a rusty effect (I lacked Tin Bitz or its equivalent)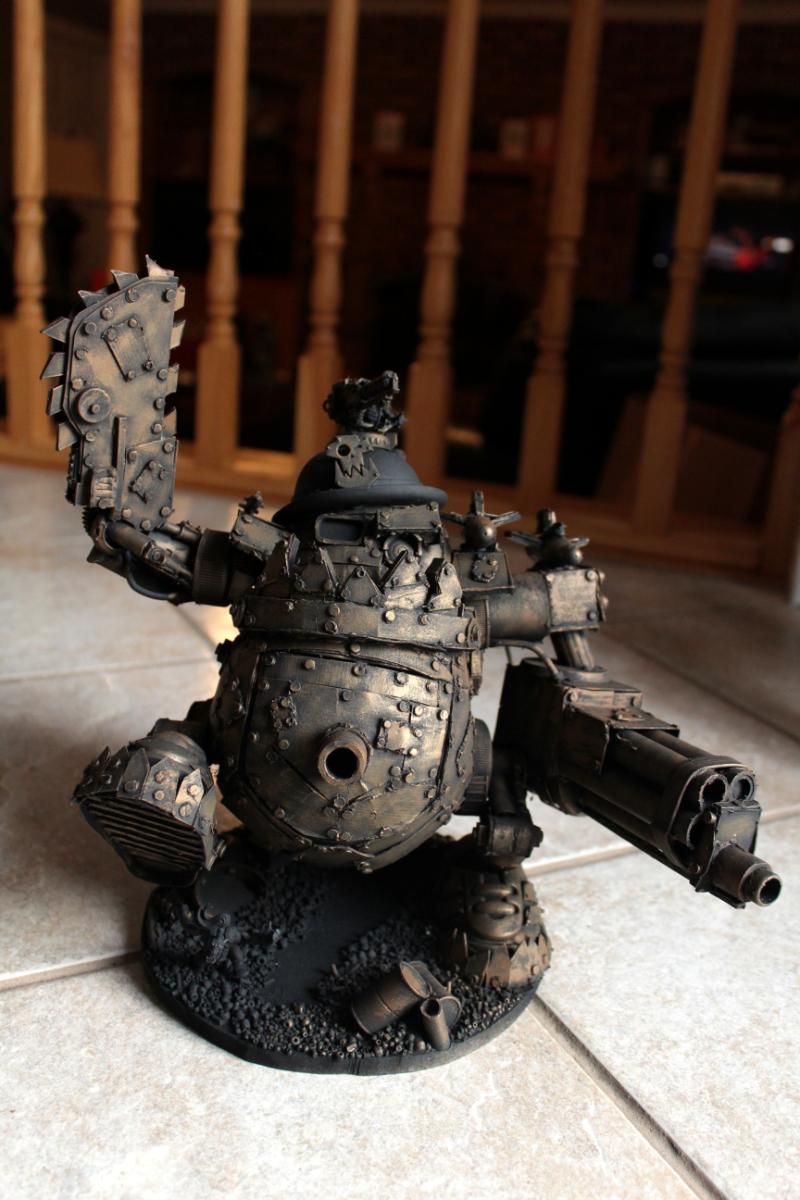 And then drybrushed a layer of Tamiya gun metal (though I neglected to take a photo of that stage. whoops).  I then put on the base coat of red, a bit of blue, etc.  I used Bugman's Glow for where I planned on painting yellow to give it something brighter for a base, but one that would also mute the yellow:
and currently, this past week, I've painted in more details, worked in washes, and weathering. I'm not really satisfied with the weathering, or the tones of the colours--it looks too metal, almost?  I don't know. Suggestions are welcome.  Also, I tried to use OSL on the one big eye, like Irondog had, but it's my first attempt, so it's not turning out as I'd hoped.  I'll have to give it another try.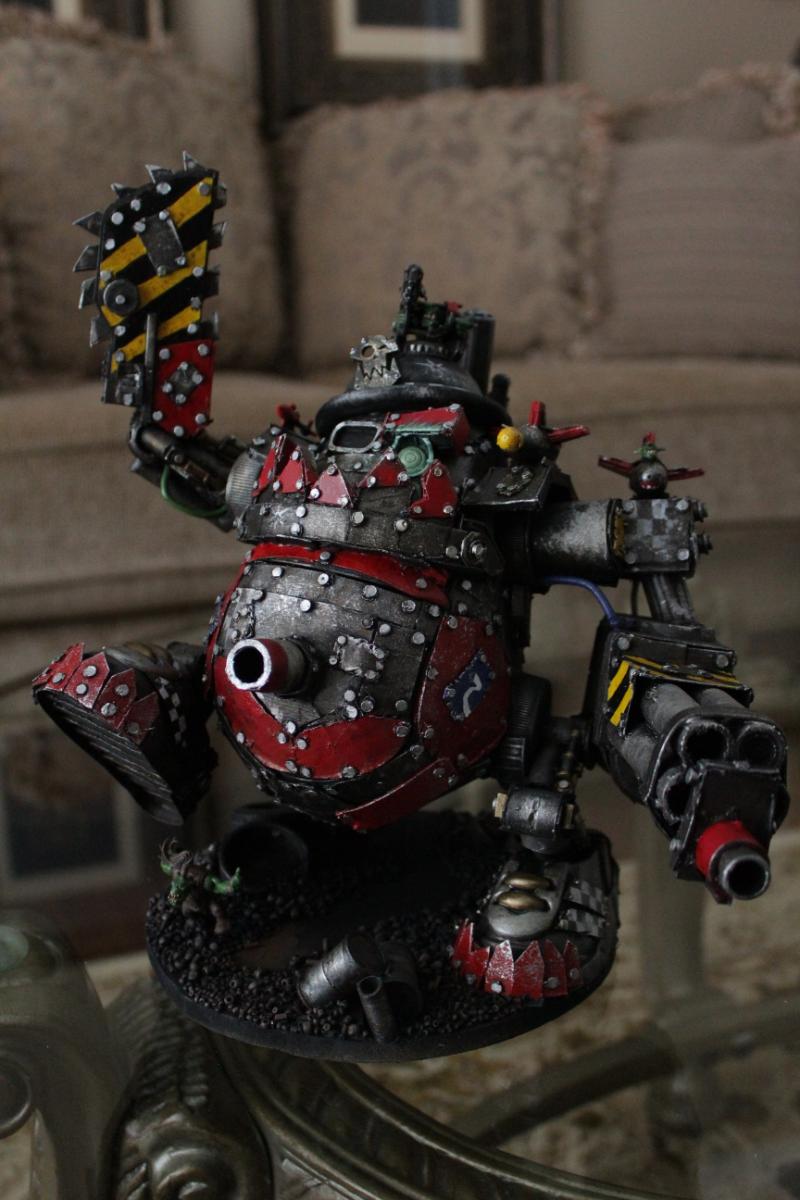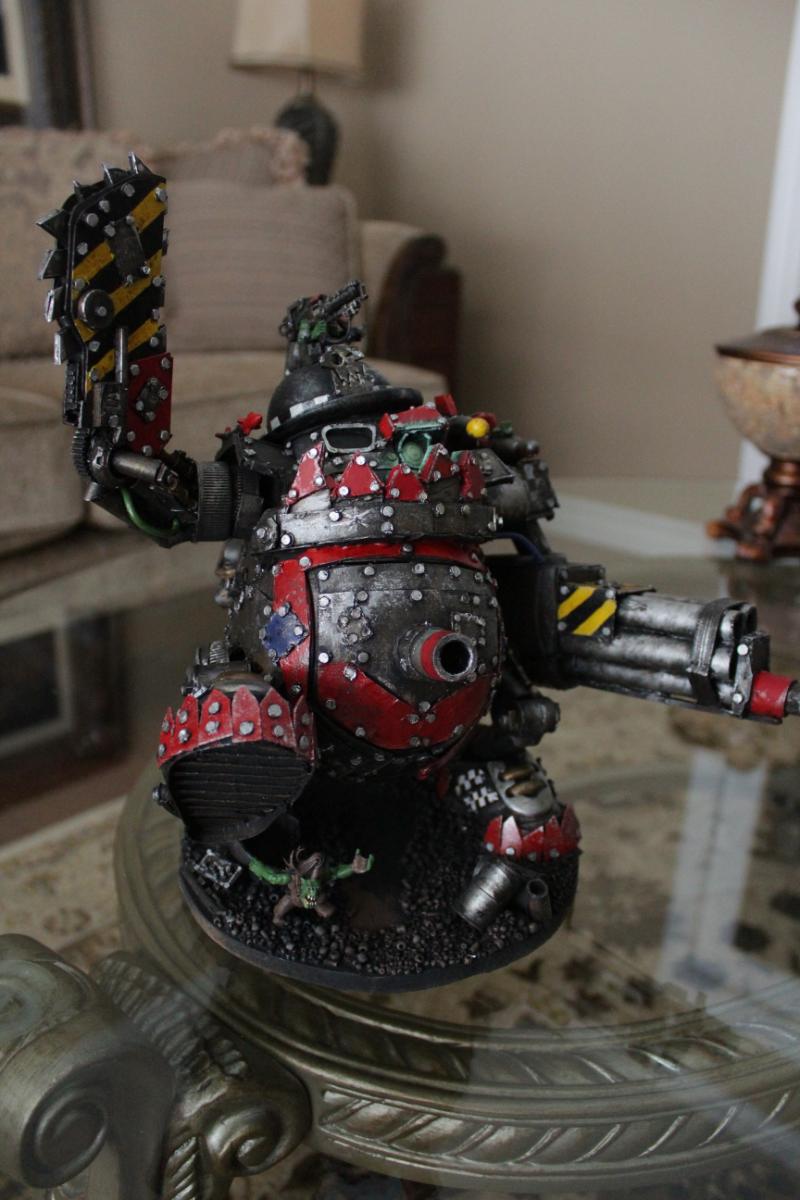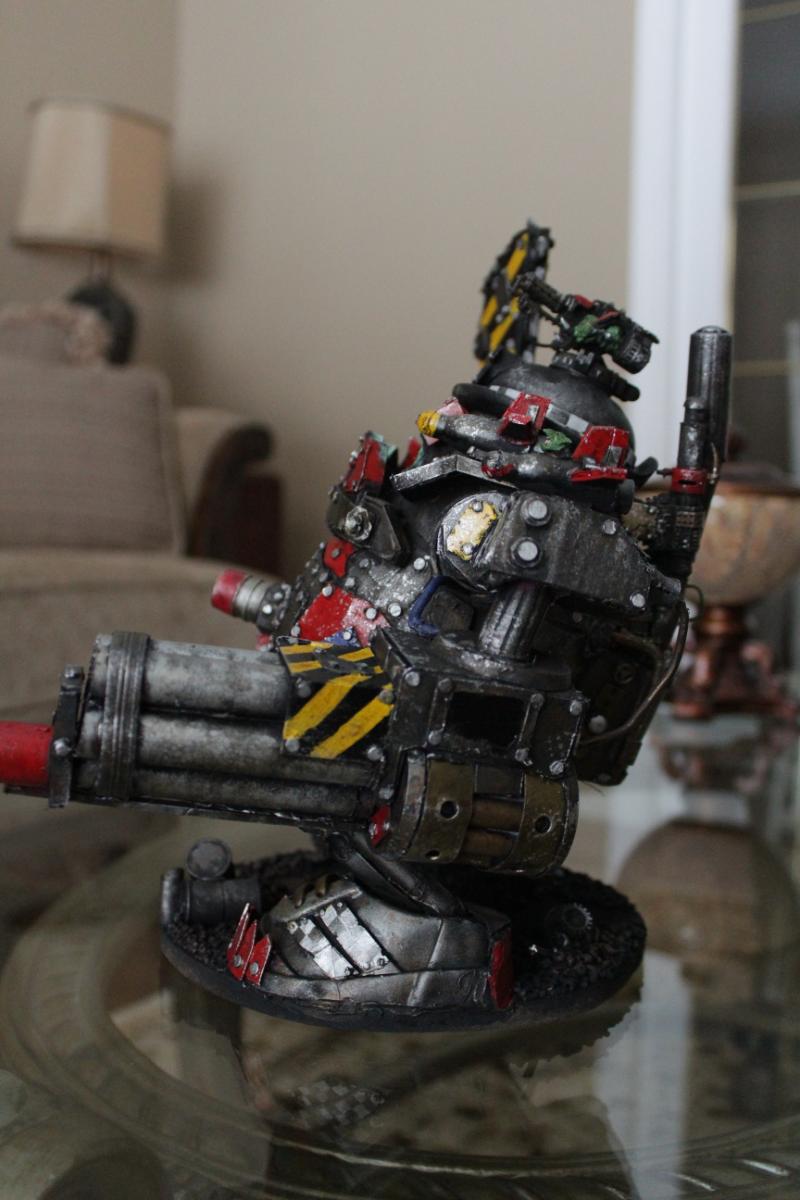 The Power Plant: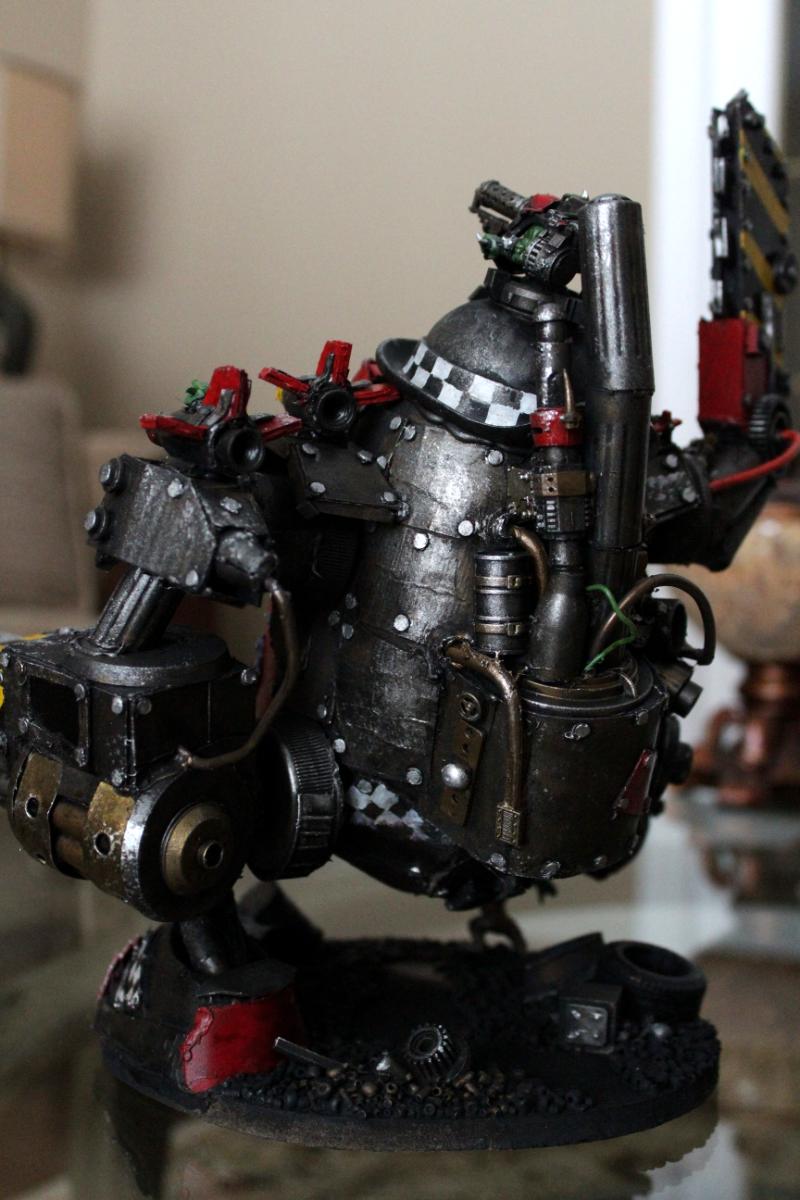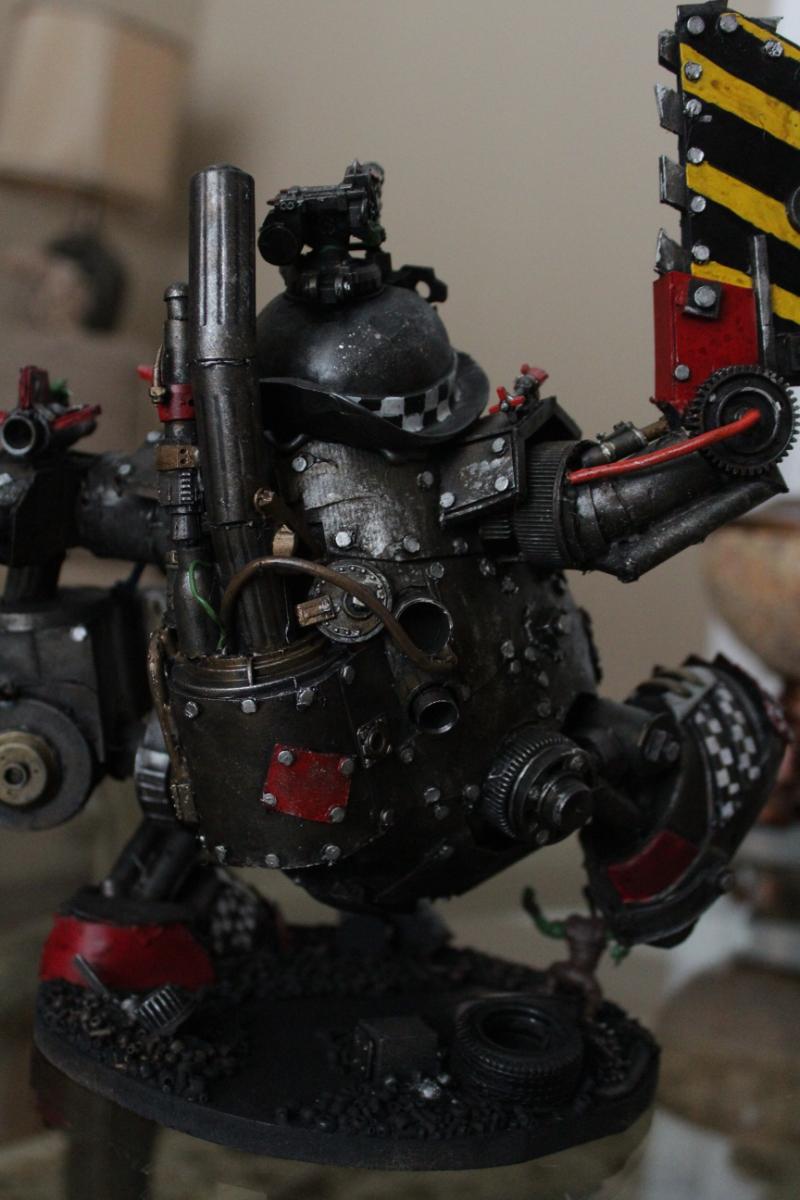 Some detail shots:
the Deff Kannon:  
Those lovin', seducin' eyez...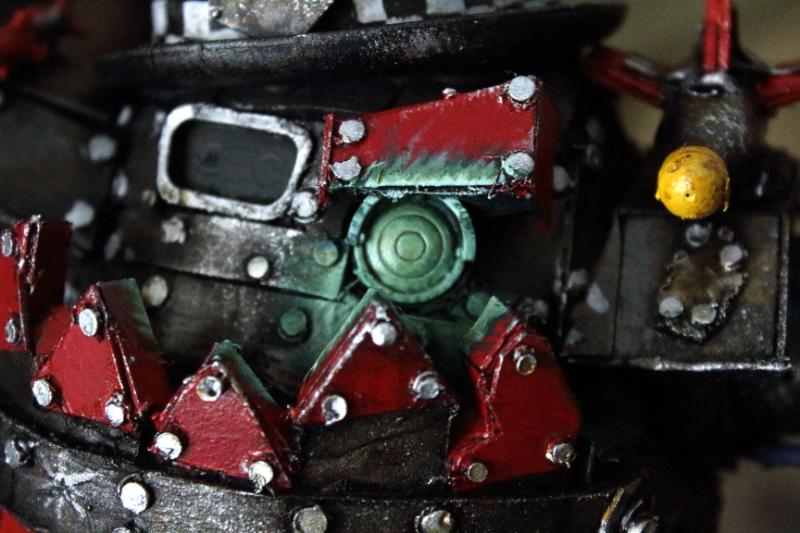 the big shoota gunna!  This guy can rotate *almost& 360 degrees!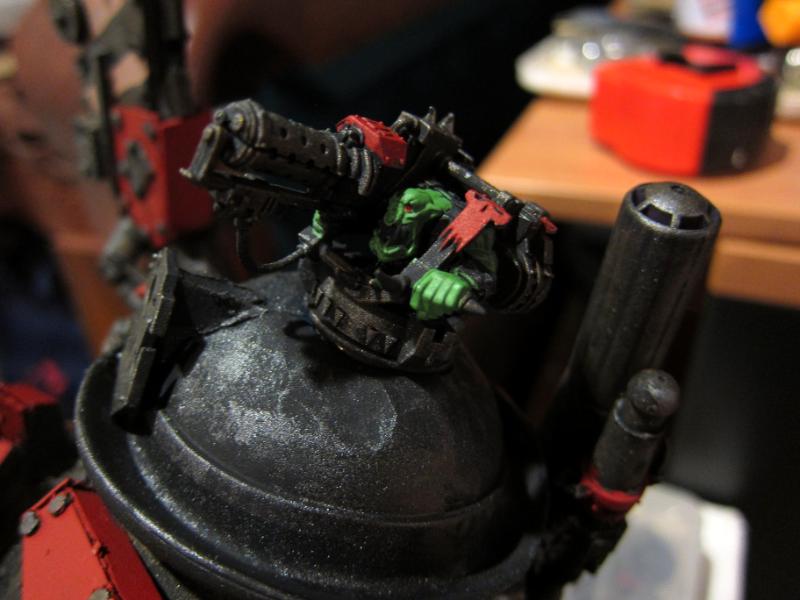 A poor sod who's about to get SQUASHED...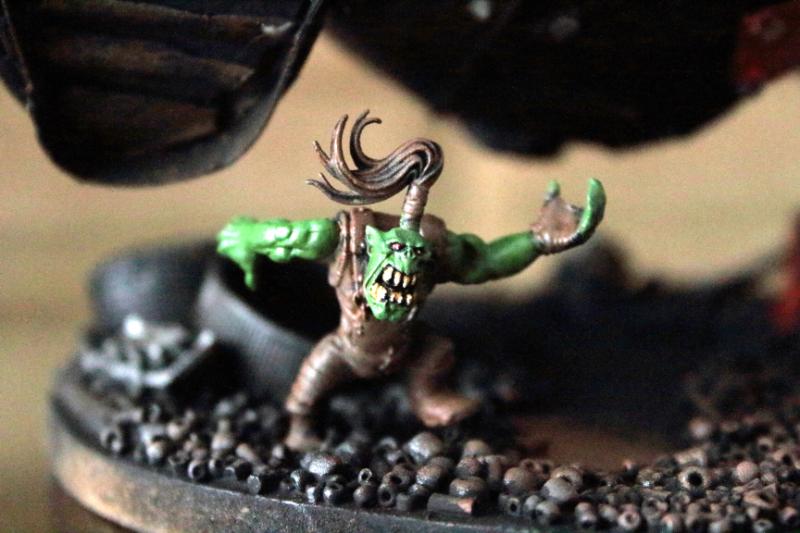 ...under this foot!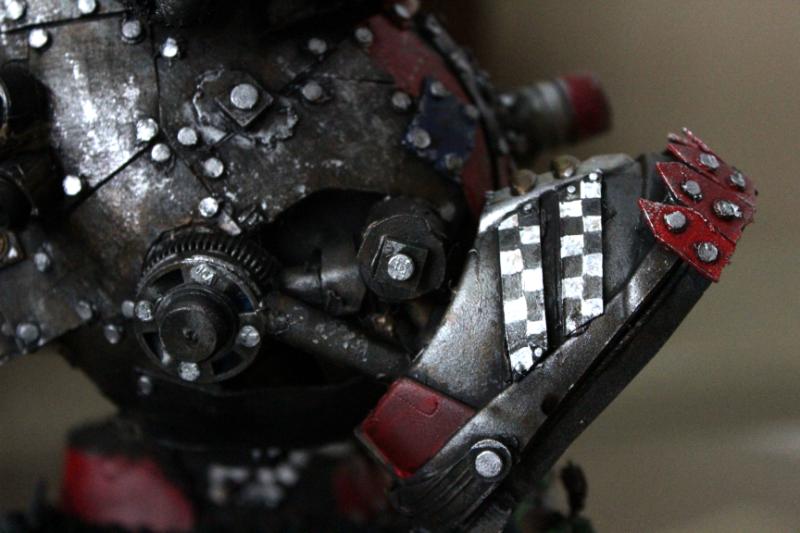 I later updated some of the paint.  I wasn't happy with how the painting had gone (I'm still not).  But it made things a bit better:
That's it, that's all!  Thanks so much for viewing!  The feedback I've received in store has been really quite amazing, affirming, and humbling. It's also been quite reassuring. I've never been super confident in my painting and modelling abilities, and while I've learned a lot on this project, and have started to apply it to my others.  But I'm still feeling like an utter newb.  So thank you everyone for the encouragement!
Dude, this thing is freaking amazing, I love it! I'm glad I put this forum together for no other reason then I got to see this thing and your battlewagon. I wish I had a tenth of your modeling skills
Admin




Posts

: 8


Join date

: 2016-05-02


Age

: 37





Similar topics
---
Permissions in this forum:
You
cannot
reply to topics in this forum